Latheguard™
Clear LEXAN®, Semi-Circular Wrap-a-round Guards
Heavy Duty Cast Mounting bracket supplied.
Heavy duty chrome-plated extension tube and hardware.
Ready to mount; all you do is affix mounting bracket with two screws.
Back of shield is reinforced with plated wire-form housing.
Locks in swing away or functional positions.
Accepts 3 or 4 Jaw Chucks.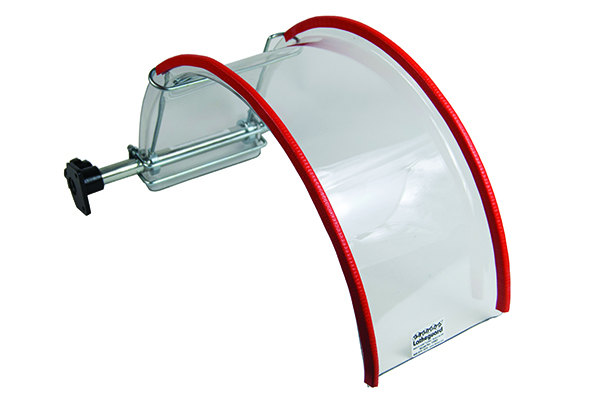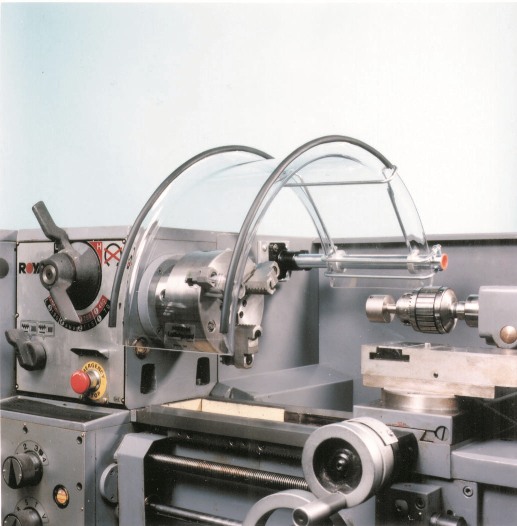 Neither Razor-Sharp Chips Nor Broken Tool Bits Will Penetrate The LEXAN® Shield
Rib reinforced
Robust construction
Light in weight
Swings away easily
Model No.

Suggested
Lathe Size

Center Height
(A)
(Shield Height)

Use With
Chucks

Shield
Width
(F)

Shield
Length
(B)

Tube
Length
(E)

12999
Very Small Lathes
3.9"
Up to 6" Dia.
6 1/4"
7.8"
10"
13060
6 to 12
6"
Up to 8" Dia.
6 1/4"
11.8"
10"
13061
12 to 16
8"
Up to 12" Dia.
8"
15.8"
11 1/2"
13062
16 to 20
10"
Up to 16" Dia.
8"
19.70"
13"
13064
20 to 24
13"
Up to 20"
8"
23.6"
13"
13059
Extra Long Tube (E) for lathes where chuck sticks out a long way from headstock.
16"
Information and Specifications
The Chuck Diameter being used on your Lathe makes for a good formula.
Utilize Dimension "A" and other dimensions given in chart shown below.
On Lathes with center heights of 7 inches or more there is a significant variation in the diameter of a 3-Jaw as against a Jaw Chuck. It may be necessary to install the next larger Latheguard to accommodate for the 4-Jaw Chuck. Keeping a double bracket (No. 13071) on the Lathe makes it possible to switch your latheguard from small to larger size and vice versa, in one minute.
When calculating Dimensions "A", always allow ample clearance for largest machined part or furthest jaw extension.
NEITHER RAZOR-SHARP CHIPS NOR BROKEN TOOLS BITS WILL PENETRATE THE LEXAN® SHIELD
---
Replacement Shields for Latheguard™
Replacement for: 12999
Shield Width (F): 6 1/4"
Shield Length (B): 7.8"
Shield Height (A): 3.9"
Replacement for: 13060
Shield Width (F): 6 1/4"
Shield Length (B): 12"
Shield Height (A): 6"
Replacement for: 13061
Shield Width (F): 8"
Shield Length (B): 16"
Shield Height (A): 8"
---
Latheguard™ Brackets
All Latheguards supplied with mounting bracket No. 13070.
Order from below if your Lathe needs either #13068 or #13069 Bracket, or No. 13071 Double Bracket.

Long Reach Latheguard Mounting Kit for easy mounting of Latheguard on large machines for difficult applications. Mount can be positioned up to 27" from Latheguard.